Product Category

NEW PRODUCT

New Model
(10)

HIGH DEFINITION CABLE

Solid Color HDMI Cable
(25)

Dual Color HDMI Cable
(75)

Metal Casing HDMI Cable
(95)

Mini/Micro HDMI Cable
(25)

Flat HDMI Cable
(50)

90° HDMI Cable
(20)

Swivel HDMI Cable
(5)

HDMI Cable with Led Light
(5)

Active/Flex/Locking HDMI Cable
(5)

DVI Cable
(15)

HDMI to DVI Cable
(10)

HDMI/DVI to VGA Cable
(5)

DisplayPort Cable
(10)

HDMI Adapter&DEVICE

Mini DisplayPort Adapter
(10)

DisplayPort Adapter
(10)

HDMI Adapter
(20)

HDMI Wall plate
(10)

HDMI Device
(15)

AUDIO/VIDEO CABLE

HI-FI Cable
(15)

Toslink Cable
(15)

Hi-end AV Cable
(25)

Mid-end AV Cable
(10)

Low-end AV Cable
(45)

Scart Cable
(10)

RF Coax Cable
(5)

COMPUTER PERIPHERALS

Patch Cord Cable
(5)

VGA Cable
(15)

KVM Cable
(10)

USB 3.0 Cable/Adapter
(20)

USB 2.0 Cable/Adapter
(40)

USB 2.0 Active Cable
(15)

USB 2.0 Converter Cable
(10)

1394 Cable&Adapter
(25)

Contact us
Farreach Electronic Co.,LTD. Add:Seven Village,Tanzhou Town,Zhongshan City.
Tel: 0086-760-86631640
Fax: 0086-760-86631641
Mobile: 0086-13823994619
Email:
sales@farreach-electronic.com
msn:

skype:


Products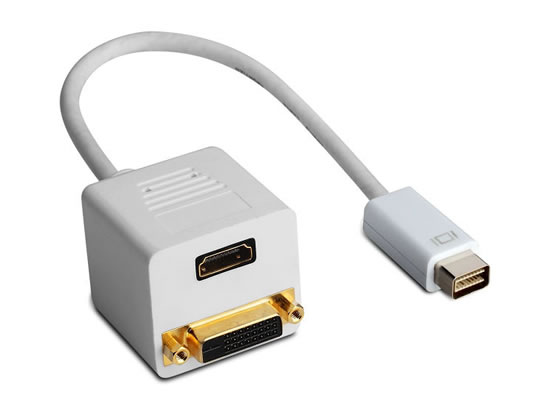 F-MDHD
Mini DVI to HDMI+DVI cable
Mini DVI to HDMI+DVI cable
This kind of unique designed cable can perfectly connect your Mini DVI source devices to HDMI and DVI display devices simultaneously. It looks so elegant and beautiful with its white color.
Optimized Connectivity
Ultra High Density, Triple Shielded, and high Intensity Twisted Pair Cable is used for the most stabilized impedance and highest uncompressed digital video signal transfer available. It maintains high bandwidth and maximum data signal integrity. Made with lead-free& environmentally safe materials is for a better world.
Product Specification:
Transfer Bandwidth:From 165MHz (4.95Gbps) to 340MHz (10.2Gbps)
Cable Type: Triple Shielding
Signal Type: Transition Minimized Differential / Signaling (TMDS)
Connector Type:
Mini DVI Male to HDMI Female and DVI male